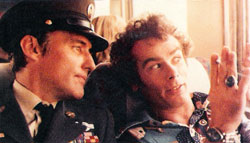 Dennis Hopper is one of our most recognizable actors but few realize he is also a very talented director. (He is also a painter, a photographer, and an all around man-about-town, having known and rubbed elbows with many assorted American icons, including Martin Luther King, Jr., Malcolm X and even Elvis Presley!)
After a brief stint as a teenaged gasoline huffer, Hopper began his acting career working alongside the very best - James Dean - in the landmark films Rebel Without a Cause (1955) and Giant (1956). He also had minor roles in Cool Hand Luke (1967) and a few John Wayne pictures. But it was with his role in the film Easy Rider (1969) - a role with which he will always be associated - that he emerged into the limelight as an actor.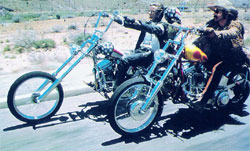 Hopper also made his directorial debut with this groundbreaking independent feature. Easy Rider was a smash hit that, according to many filmgoers, ?defined a generation.? Its storyline is fairly simple: a couple of long haired hippies (played by Hopper and Peter Fonda) sell some cocaine to Phil Spector and then drive their motorcycles to Mardi Gras before getting murdered by Southern rednecks.
Hopper studied the works of Italian director Michelangelo Antonioni before filming, and the greatest lesson he learned was the beneficial importance of shooting on location. Not only can real settings enhance a film?s visual look, the use of local people can help capture the unique flavor of a place. Indeed, many of the extras in Easy Rider were real people expressing genuine prejudice towards the long-haired cast and crew, and their insults and comments were authentic, unscripted sentiments of disgust and hatred. In his first film, Hopper also pioneered the use of 60s acid rock for the soundtrack (by bands such as The Jimi Hendrix Experience, The Byrds, The Band, etc.), and popular contemporary music would continue to play a large part in all of his subsequent films, helping to capture the essence of the eras in which they were made.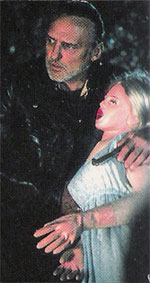 Although Easy Rider was a huge favorite with audiences, many film critics were not so kind. In a scathing review, Paul Schrader found the film to be so awful as to be laughable. Schrader might not be so far off; the film couldn?t have given hippies a worse reputation. Just marvel at Hopper?s selfish asshole of a character; how much of this ?me, me, mine? attitude is satire is hard to say, as the writer Terry Southern (who also penned the dark comedies Dr. Strangelove and The Loved One) has a screenplay credit. While Jack Nicholson?s star-making cameo is a memorable favorite among fans of the film, for me the highlight is the excursion to a commune in Northern New Mexico, with its homage to the Last Supper and hippies walking around tossing seeds on a dusty desert terrain as Hopper?s character asks, ?You get much rain around here, man??
Despite its critics, Easy Rider was a gigantic financial success and Hopper was offered two million dollars to shoot his next picture. It would be his masterpiece; it would also nearly ruin his career.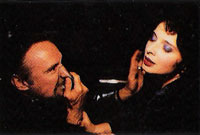 Ironically titled The Last Movie (1971), the inspiration for the film (shot in Peru) came from a Henry Hathaway picture Hopper had worked on in Mexico, where Hopper observed the film crew erecting a fake church next to the real one in a tiny village. When the crew left town after the shoot, they left the fake church standing, leaving Hopper to ponder the effect this might have on the locals. This idea forms the basic premise of The Last Movie, in which an ultra-violent western is being made in an unnamed South American country. The natives who observe the filming have no notion that it is all make-believe; they have no concept of what a movie is.
Hopper plays a Hollywood stuntman who decides to remain after his production company departs for home. Shortly thereafter, the natives decide to make their own movie, with wooden cameras and real guns.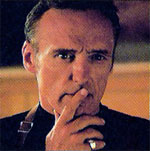 While this blend of fantasy and reality with a pinch of culture clash thrown in serves as the plot of The Last Movie, what the film really seems to be about is the dangers of violent art and the ugly white spirit run amok in a foreign country, forcing its way of thinking on everyone. Anyone who has traveled to the Third World is familiar with the depressing sight of large crowds circled around a TV watching hyper-violent American action films; The Last Movie looks at what might happen when this attraction is taken to its logical conclusion.
Political agendas aside, Hopper claims to remember little about the making of his masterpiece. According to him, the filming was just ?one big party? of which an astonishing 29 hours of footage was shot. He then spent nearly two years holed up at his ranch in Taos boiling the footage down to a standard movie length. While attempting to edit the film, he consumed vast amounts of weed, whiskey and cocaine and continued the party (I have it on good authority , by the way, that to this day Taos is literally littered with the illegitimate offspring of Mr. Hopper, and that ?Dennis Hopper is my dad? is practically a clich? among the local populace).
The finished product is a difficult film on first viewing. The studio found it to be completely incoherent and never really gave it a chance, shelving it after only a week in the theaters. A financial disaster, it looked as if it would truly be Hopper?s ?last movie? as a director. Despite winning a prize at the Venice Film Festival, The Last Movie was quickly pulled from distribution and would remain virtually unseen for the next two decades.
While The Last Movie is admittedly messy, it is filled with many bravura moments, and is one of the most audacious films to come out of the creatively fertile 70s. A classic set piece occurs early in the film; a party scene, seemingly shot in one take, in which Hopper wanders from room to room (each filled with its own unique subcultures and bizarre happenings) before he seeks solitude to collapse into tears. And perhaps the finest sequence of his career is towards the end of the film: shot in the shoulder during a chase, he stumbles about in a rage, disrupts a bar, panics, and then hallucinates that he is dying, only to fully recover, all in the course of a few minutes of tightly edited film. It is pure cinema at its finest, at turns frightening, grotesque, hypnotic and hilarious. Despite all this, the film was a failure, and it would be nearly eight years before Hopper would be allowed to direct again.
At this point, Hopper?s career took on the same trajectory that befell another neglected American director, Orson Welles. Like Hopper, Welles will forever be associated with his first filmmaking effort, Citizen Kane (1941). And like Hopper, Welles? second effort, the artistically brilliant Magnificent Ambersons (1942), would be an expensive failure. Both Hopper and Welles were subsequently ?blacklisted? from directing and would have to spend the next several years whoring themselves out as actors in other people?s mediocre movies instead of directing their own. Both men would eventually create their greatest roles as villains: Welles as Harry Lime in Carol Reed?s The Third Man (1949), and Hopper as Frank Booth in David Lynch?s Blue Velvet (1989). And both would eventually end up ?acting? in television commercials.
Hopper spent his ?lost years? in a permanent drug haze, sporadically appearing in films such as Wim Wender?s The American Friend (1977) and Henry Jaglom?s Tracks (1974), where he explodes into a chilling preview of his Frank Booth persona. He also turned in a memorable performance in Francis Ford Coppola?s Apocalypse Now (1979), which he later parodied wonderfully in Robert Altman?s O.C. and Stiggs (1987). But before his total breakdown (he was arrested for running naked down a highway in Mexico), Hopper somehow managed to direct one more great film.
Out of the Blue (1981) is a nihilistic punk rock nightmare. The mood is set with the preface as Hopper?s drunk truck-driving character slams into a school bus of children dressed in Halloween costumes. Linda Manz (Days of Heaven) is wonderful as his alienated daughter who has to deal with the repercussions of the tragedy as well as other dark sorrows. Just as Easy Rider served as a perfect time capsule of the late 60s, Out of the Blue nicely sums up the early 80s: alcoholism, dysfunctional families, dead-end jobs, and bored teens filled with angst set to a Neil Young soundtrack.
It has always amazed me that Hopper was able to direct and star in such a fine film while in the deepest depths of his drug and alcohol addiction. Like guitarist Jimmy Page, blisteringly brilliant while juiced up on heroin but barely able to play a note when clean and sober, Hopper would lose much of his power and ability as a filmmaker as he reemerged in the mid 80s, drug free and Republican.
Still, his next film, Colors (1988), has much to offer. His first venture as a brand new man features great location work and uses actual gang members to tell its tale of police battling gang warfare in LA. A stunning performance by Robert Duvall helps elevate the film to its aspiration to be more than the typical ?cop? movie. There are some good action sequences and (as is usual for Hopper) some great music by Los Lobos, Dr. John and Herbie Hancock, among others. Some critics complained about the needlessly complicated plot, but Hopper?s skilled direction keeps the film moving and while Colors may not be a great film it is a very good one, by far superior to any of the numerous urban ?gangsta? pictures that it preceded.
Hopper?s next attempt at directing was a trashy B thriller called Backtrack (1990), which was at some point taken out of his hands. A ?Director?s Cut? was eventually released on video but it is hard to tell how much it represents Hopper?s vision; for example, did he authorize the dreadful synthesizer-soaked score that accompanies this version? Regardless, the movie is a jolly good time, with Hopper playing a mentally-challenged hit man with an amusing accent (?I want dat one?) sent to kill a pretentious artist played by Jody Foster, with whom he then falls in love. (Foster has stated for the record that Backtrack is the only film in her career she truly regrets having made).
The film is full of familiar faces (Dean Stockwell, Vincent Price, Fred Ward, Sy Richards, John Turturro, etc.) and has some unexpected cameos, such as Bob Dylan as a chainsaw artist. Despite the inclusion of a helicopter chase (never a good sign), it doesn?t really turn ugly until the ending, where everything blows up, always a good indication of no imagination on the part of the screenwriter. With any other director at the helm, it would have been completely forgettable; as it is, it?s one of my favorite ?bad? movies, a guilty pleasure.
Hopper?s last (decent) film was The Hot Spot (1990), a contemporary film noir set in Austin, Texas. The screenplay was for an unproduced Robert Mitchum vehicle from the 50s that Hopper dusted off and in which he made one small change (he turned the original car dealership into a used car lot). The result is a great, old- fashioned thriller, albeit one with some steamy sex, featuring a very nubile Jennifer Connelly. Hopper once again uses his eye for photography and locations, setting one scene in the magical Austin landmark of Hamilton?s Pool. And as was true of his earlier films, The Hot Spot has a terrific soundtrack for which Hopper recruited John Lee Hooker, Taj Mahal and Miles Davis to create an improvised jazz/blues score. As a native of Austin myself, I was filled with great affection for Hopper when he included a very brief cameo by The Grey Ghost, a legendary local performer; for me, this is a testament to Hopper?s taste and wisdom. Sadly, The Hot Spot is virtually unknown and unseen and did a very mediocre business at the box office, although it represents Hopper?s last good effort at directing.
His next feature, Chasers (), is so bad that even I can?t stomach it. (Always the completist in my collections, I debated once at a Walmart bargain bin for over ten minutes, where a DVD of this debacle was only $10. I passed.) A shameless rip-off of Hal Ashby?s The Last Detail (1973), but with a Playboy Bunny in the Randy Quaid role, Chasers is ostensibly a comedy. The first half hour isn?t so bad, and there is at least one joke that is a genuine gut buster. But it quickly degenerates into a painful, unrealistic and unfunny bore. I?ve always hoped that Hopper was just a director for hire on this one, like Welles when he made The Stranger (1946). Incredibly, Chasers would prove to be Hopper?s most commercially successful film in years (doubtless due to the Bunny). It would not, however, lead to more work.
As Hopper continues to play psychotic nutballs in crappy Hollywood action films, even his great work as an actor in quality fare like The River?s Edge (1986) seem far away and long ago. Asked a few years back if he had it all to do over again what he would most likely change, Hopper voiced genuine regret that he hadn?t created a larger body of work as a director.
Earlier this year, the NM Film Commission announced that Hopper would be directing a new film starring Robert Duvall in and around the Albuquerque area. The project seems to have been put on hold; hopefully it will be given the green light again and Hopper can return to making quality films on his own terms. He is one of our most neglected auteurs and while his oeuvre is often very dark and disturbing, it is also uniquely American. The time is long overdue for a new Dennis Hopper film. Let?s hope to see him back in the director?s chair here in NM sometime in 2006.
P.S. Alphaville Video carries all of the films mentioned in this article, with the exception of Chasers.
---