Spotlight for Fall 1998: Femmes Fatales
An elegantly dressed woman is walking in the woods outside a provincial French village. She stumbles upon a nest of quail eggs, and as the camera moves in for a closeup, boldly crushes them in her fingers.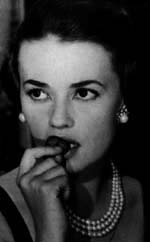 So opens the film Mademoiselle (1966), introducing us one of the many women in film played by the luminous French actress, Jeanne Moreau. Moreau's character, confined to a narrow life and the impossibility of realizing her own desires, goes on to seduce and then accuse an Italian migrant worker of crimes she herself has committed. And so she provides us with a clear understanding of that misunderstood character we call the "femme fatale": a woman whose power and beauty go unrecognized by those around her, and who, in her anger and frustration, seeks vengeance through the seduction and ultimate destruction of men.
As the opening scene of Mademoiselle reveals, the destructive force of Moreau's character is without limits (she has just flooded the stables of the outlying farms as well). Yet it is almost impossible to imagine the femme fatale in film without also imagining a powerful (and thus potentially dangerous) female sexuality.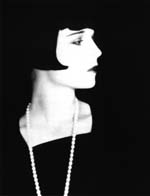 The titles often say it all: G.W. Pabst's Pandora's B ox (1928) features Louise Brooks as an erotically charged chorus girl who destroys everyone around her; Roger Vadim's Dangerous Liasons (1960) explores the theme of sexual conquest for the joy of conquest; Roman Polanski's Repulsion (1965) pulls the viewer into the disturbed mind of a sexually repressed (and subsequently violent) young woman. And how could we leave out the more recent film Fatal Attraction (1987), in which a one-night stand becomes a murderous vendetta?
In Hollywood films, the seductive strength of the femme fatale is often focused on younger men, who are considered to be particularly vulnerable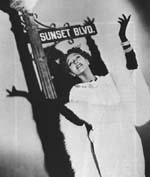 to her will. In such classics as Sunset Boulevard (1950) , All About Eve (1950), and The Roman Spring of Mrs. Stone (1961), a once powerful woman is repeatedly ridiculed by her lover. Never mind that it is she who buys his clothes, bolsters his confidence in himself, and puts up with his cheating. She is the one who is scorned and pitied, a condition not far from reality for magnificent actresses such as Gloria Swanson, Bette Davis and Vivien Leigh, all reduced to playing parodies of their former selves when the politics of aging defined them as no longer beautiful. We can only cry out, as Swanson does in Sunset Boulevard, " I am (still) big! It was the pictures that got small."
Compare this cinematic representation of the older woman as femme fatale to our everyday acceptance of men loving women young enough to be their daughters, a reality reflected in film. We only draw the line at what appears to be out and out pedophilia, as in the case of the controversial remake of Lolita (1998) starring Jeremy Irons as a 50-something professor who marries a woman he despises in order to seduce her 14-year-old girlchild. (The Stanley Kubrick version of Lolita (1961), whose star Sue Lyon was too young at the time to see the film for herself, was equally controversial.)
This is not to imply that the femme fatale in film cannot be a younger woman serving as the catalyst for an older man's self-destruction. Just take a look at another Jeremy Irons film, Damage (1992). But conventional representations depend on the idea that strong, independent, sexually experienced women are dangerous. And, in the case of those who have been dispossessed of any real power in the world, like abused mistress Simone Signoret in Diabolique (1955), or psychic psycho Kim Stanley in Seance on a Wet Afternoon (1964), they turn to sexual manipulation, an area in which women have always been at least marginally successful.
Despite the often distorted images of women that films may present, it is ultimately up to us, as educated viewers, to redefine the femme fatale to serve our own purposes. Seen as another manifestation of the Dark Goddess (and ironically, the femme fatale in Mademoiselle is referred to at one point in the film as a goddess), her anger and vengeance directed at those who would demean her beauty, scorn her ambitions, or ignore her talents, she strikes out, demanding to be recognized as the magnificent creature she was born to be.
Next spotlight: Black History Films