Spotlight for Fall 99 :
Favorite Foreign Films
We here at ALPHAVILLE are often asked, "What are YOUR favorite films?" So here goes! A short tally (a "baker's dozen" in chronological order) of our favorite foreign films, with special attention to the classics (they're all, with one notable exception, shot in glorious black and white), and to those films that deserve a far wider audience (hence, no Bergman or Fellini or Kurosawa or Eisenstein, whose work is far more well-known than some of those listed here). Enjoy!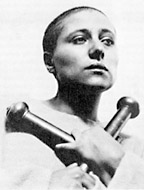 The Passion of Joan of Arc (1928): Carl Dreyer's silent masterpiece, and the key film of our next SPOTLIGHT (on Silent Films). After this, all other versions of the story of the young maiden who became the patron saint of France pale by comparison. Check out the newly remastered version with musical score by composer Richard Einhorn, featuring the string quartet Anonymous 4. And don't forget Dreyer's other films, including Vampyr (1931) and Day of Wrath (1943).
The Man with a Movie Camera (1929): Here's silent cinema at its best! Dziga Vertov's incredible dawn-to-dusk documentary of early Soviet life, from the factory to the streetcar to the farm. The editing is as impressive as anything on MTV, featuring wonderful special effects (like double exposures and split-screen photography). In one key scene, true to Vertov's philosophy that "film is truth," we even get to see the film itself being edited on the table! Our copy has a great contemporary soundtrack by the Alloy Orchestra, recreated from Vertov's original notes.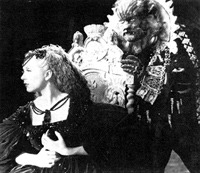 Blood of a Poet (1930): In this surreal and mesmerizing journey through the mind of a madman, director Jean Cocteau exposes his own private demons to public scrutiny. Using the uniquely cinematic techniques of reverse motion and jumpcutting that were to be developed in later films such as Beauty and the Beast (1946) and Orpheus (1949), Cocteau explores the process by which artists become obsessed with their own creations.
Olympia (1936): Leni Riefenstahl's remarkable documentation of the 1936 Berlin Olympic Games, in which she captures the intense grace and beauty of the competitors, and in the process creates one of the best sports films ever made. Considered to have had the potential to be the century's greatest female film director, Riefenstahl's career was cut short by her unfortunate alliance with Hitler, for whom she made the Nazi propaganda film Triumph of the Will (1936). For a closer look at this controversial and complex woman, check out Ray Muller's documentary The Wonderful, Horrible Life of Leni Riefenstahl (1993).
The Apu Trilogy (1952-1959): Three films, actually, by director Satyajit Ray, that trace the journey of a young boy and his family from the poverty of the rural countryside to the wealth and promise of the city, where they find both tragedy and fulfillment. Unrecognized in his native India (where the comic-book musical fantasies of Bombay's "Bollywood" reign), Ray's work, including The Music Room (1958) and Two Daughters (1961), has recently been under restoration by the British film team of Ismail Merchant and James Ivory, to whom we are eternally grateful.
Black Orpheus (1958): Director Marcel Camus's mythic tale of passion and immortality is set against the vivid backdrop of carnival in Rio de Janeiro. The tragic story of Orpheus (updated from Greek hero to streetcar conductor) and Eurydice (a shy country girl) explodes with dance, music, magnificent color photography, and the seemingly spontaneous performances of a brilliant cast. The haunting scene in which Orpheus searches for Eurydice among piles of paper at the Bureau of Missing Persons is a tragic reminder of the senselessness of urban life in Brazil.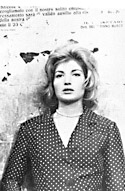 L'Avventura (1960): A classic study (and the first in a trilogy of similar films) of the lack of interpersonal communication in modern life by Michelangelo Antonioni, who went on to direct Blow-Up (1966) and Zabriskie Point (1970). L'Avventura painstakingly follows the passionless romance of a wealthy Italian couple thrown together by a mysterious tragedy. With its slow, long shots of the empty landscapes through which they travel, the film becomes a disturbing meditation on the meaning of human existence.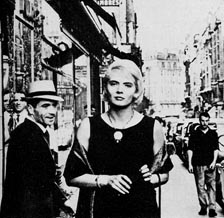 Cleo from 5 to 7 (1961): Perhaps the only feminist film to emerge from the French New Wave movement, Cleo from 5 to 7 follows (in real time) a young woman's discovery of herself one summer evening in Paris, as she awaits the results of a test for cancer. The film, shot in the breathless, street-smart style of the era, brilliantly shifts point of view as the beautiful but spoiled Cleo (played by pop singer Corinne Marchand) slowly becomes the subject of her own life, instead of an object desired or used by others, a theme director Agnes Varda will continue to pursue in later work, such as Vagabond (1985) and Le Petit Amour (1987).
La Jette (1962): Chris Marker's evocative study of post-apocalyptic Paris is only 29 minutes long, but every frame is a gem. Composed entirely of still shots, La Jetée (the title refers to the grand jetty at Orly Airport) follows one lone survivor as he travels back into the past searching for relief from the horrors of the present. The inspiration for Terry Gilliam's 12 Monkeys (1995), which reworked the story but left out the art. And be sure to check out Marker's other "documentary essays" (as he likes to call his films), from the groundbreaking Le Joli Mai (1962) to the astounding Sans Soleil (1982).
Knife in the Water (1962): Who would remember that Roman Polanski, controversial director of such well-known hits as Rosemary' s Baby (1968) and Chinatown (1974), started his career in Poland? His first feature explores the tension and violence that explodes between a man, his wife, and a young hitchhiker when the three of them are confined on a small sailboat. This theme of people trapped in the hell of their relationships to others runs through all of Polanski's films made at home and abroad, including Repulsion (1965), the black comedy Cul de Sac (1966), and his more recent Death and the Maiden (1995).
Woman in the Dunes (1964): The cinematography in this strange Japanese film is a painfully beautiful and intimate exploration of the primal elements of earth, flesh, water, and wood, as we observe the existential struggle of a scientist trapped in a sand pit with a mysterious woman. A bizarre erotic drama that unfolds with minimal dialogue, Woman in the Dunes was written by novelist Kobo Abe and directed by Hiroshi Teshigahara, who went on to collaborate on the equally terrifying Face of Another (1966).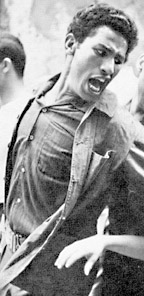 The Battle of Algiers (1966): Gillo Pontecorvo's compelling look at the events surrounding the Algerian fight for freedom from French colonialism. The film appears to be shot in a straight-forward documentary style, until we realize we are seeing both sides of the battle, from the delivery of ticking time-bombs planted in crowded cafes to the atrocities of military torture of rebel prisoners, as if we ourselves were active participants in the struggle. Winner of numerous international awards, The Battle of Algiers deserves to be seen again and again.
Memories of Underdevelopment (1968): You're a jaded young man enjoying the privileges of your class and wealth and then boom! Viva la Revoluciòn! Tomas Gutierrez Alea's searing study of Cuba in crisis as seen through the eyes of one person who chooses to stay in Castro's new nation because "Here, I don't know what's going to happen." The intercutting of documentary footage of political rallies and the mass exodus of Cubans to the U.S. only underscores the impact of the film and prefigures the theme of how individuals react in diverse ways to their political situation, a theme that "El Titon" (as Gutierrez Alea was affectionately known) expertly explored throughout his career in films such as Strawberry & Chocolate (1994) and Guantanamera (1995).
Next spotlight: A Farewell to Britain's Best.