Spotlight for
Spring 2001:
ALPHAVILLE'S
Top Ten
"Alternative" Films
for the 20th Century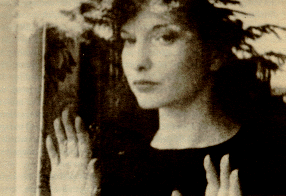 We here at Alphaville don't want to be left out of the listmaking, so we have compiled a list of some of the films we feel helped to move the art of filmmaking a step farther. Here are our picks, one per decade:
1) Impossible Voyage (1904) - The first cinematic sci-fi, complete with hand-tinting and other early special effects, from master filmmaker (and former magician) George Melies.
2) The Cabinet of Dr. Caligari (1919) - Taking its cue from the German Expressionist theater, this black-and-white silent, with its skewed sets and cold-blooded acting, still terrifies.
3) Man with a Movie Camera (1929) - Yes, Eisenstein's Battleship Potemkin may be the one that every film professor cites, but for the best (and most fast-paced) in Russian montage, Vertov rules!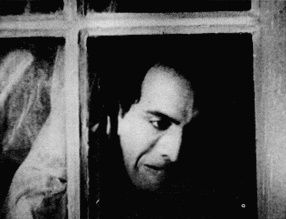 4) Blood of a Poet & Un Chien Andalou (1930) - These two surrealist films, by Jean Cocteau and Luis Buñuel respectively, tied for our pick of the 30's. Both are masterful examples of some of the marvelous effects (slow-motion, cuts from one scene to another and back, reversal of motion, etc.) unique to cinema.
5) Meshes of the Afternoon (1943) - Experimental filmmaker Maya Deren's meditation on a day in the life of an "ordinary" woman as she confronts her inner demons. With a fabulously weird percussion soundtrack by Teiji Ito.
6) The Thief (1952) - We knew we had to include an example of "film noir" in our ten best list, as the genre continues to be an important influence in film. We finally settled on this tense drama, told entirely without dialogue, about a turncoat nuclear scientist (played by Ray Milland) stealing secret information for the other side.
7) La Jetée (1964) - One of the most perfect films of all times, with a tragic futuristic plot and a narration that explores the depths of metaphysics. The true art of this film, however, lies in the fact that it is composed almost entirely of still images - haunting, poetic, and magical.
8) Eraserhead (1977) - David Lynch (the director of the currently popular tearjerker The Straight Story) is now a household name, but who would have ever thought he could get here from THERE! His first feature is still one of the most bizarre films ever made - definitely not for the sqeamish - and sets the groundwork for themes exploring the macabre elements that pervade so-called "normal" American life that Lynch would continue to explore throughout his career.
9) Sweet Movie (1984) - While Hollywood was churning out action flicks, over in the former republic of Yugoslavia, Dusan Makavejev was creating his own brand of spectacle, complete with newsreel footage of wars intercut with musical interludes. Has to be seen to be believed (or doubted). To tempt you even further, it was banned in the filmmaker's home country!
10) Pillow Book (1996) - Running a close tie with Mike Figgis's Time Code, we chose this film by Peter Greenaway precisely because it points film into the future by poetically and evocatively using effects enhanced by digital video techniques (split screens, subtitles in motion) to tell the story of a woman obsessed by writing.
Finally, we encourage you all to enter the 21st Century with a bang by watching (and rewatching) Stanley Kubrick's masterpiece 2001 (made in 1968), just for fun.
Happy New Millenium from all of us at ALPHAVILLE! Let's all hope that the second century of filmmaking will be as exciting as its first!