Spotlight for Summer 1998:
Alphaville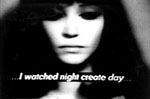 One of the first questions new customers ask is why we named our store Alphaville. After French New Wave director Jean-Luc Godard's 1965 classic sci-fi/film noir thriller, of course! The plot is simple: secret agent Lemmy Caution (Eddie Constantine) gets a tough assignment: infiltrate the city of Alphaville (a post-nuclear Paris) and neutralize the mad scientist who governs it with a super computer which has erased all emotion-laden words from the dictionary, destroying poetry and rendering Alphaville's citizens unable to express even the most basic of human feelings.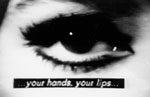 Lemmy Caution teaches the scientist's daughter (Anna Karina) the meaning of the word "love," and together they outwit the computer and flee the dying city. Wow! Pulp Fiction meets Bladerunner in the atomic age (with a touch of film noir thrown in)!
But like all great films, Alphaville is about much more than its plot. It's about poetry and memory and longing and discovery. It's about becoming human in a world that often denies us our basic right to be human - to feel, to think, to learn, to love.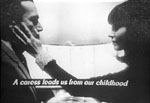 And it gives you a great idea of what our store is about: the very best in classic and contemporary foreign films (we have over 1000 titles in that category alone), as well as lots of great American independents, documentaries, experimental, underground and gay and lesbian films, all intended to reawaken the love of film in everyone (Lemmy would be proud of us)!
Next spotlight: A look at Femmes Fatales in Film.