We here at ALPHAVILLE have a running joke going: that the thing that sets us apart from all of the "mega" stores is our collection of films by German maverick Rainer Werner Fassbinder. His films engaged (and often enraged) his viewers with their exploration of politics, sexuality and racism. Relying primarily on an ensemble cast of faithful followers, he often used a variety of highly stylized theatrical effects to communicate meaning through the very structure of the film itself. In his short career (he died in 1982 at the age of 36), he produced over 40 features, shorts, documentaries and made for TV movies. Here are a few of our favorites.

---
Katzelmacher (1969) A searing black-and-white study of boredom and violence in the "new" Germany. A group of aimless young people living in a sterile housing project hang out, bicker, gossip, have sex and get drunk. Their lives assume focus when a Greek immigrant (played by Fassbinder himself) begins to date one of the women (the luminous Hanna Schygulla, who would go on to become Fassbinder?s "star" actress and a major international sensation in her own right). Fassbinder?s blatantly artificial use of the promenade to illuminate the strained relationships between his characters adds a delightfully operatic touch to an otherwise starkly chilling film.
Why Does Herr R. Run Amok? (1969) A normal middle-class functionary, complete with normal middle-class wife, child and home, does the normal middle-class routine because there?s nothing else to do, really. Seeking to give meaning to his otherwise meaningless life leads him to one final desperate act. Relentlessly pushing the boredom engendered by consumer culture to its inevitable conclusion, Why Does Herr R. Run Amok? is a graphic study of the repression that is at the heart of conformity.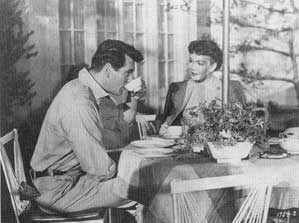 Ali: Fear Eats the Soul (1973) An homage to German emigre turned Hollywood melodramatist Douglas Sirk?s All that Heaven Allows (which was also the inspiration for Todd Haynes?s current hit Far From Heaven), Ali: Fear Eats the Soul explores the star-crossed love affair between an older German cleaning woman and a young Moroccan guest worker. Despite their social ostracization, the couple remain true to each other through thick and thin (well, almost). But (as is also true of the work of both Sirk and Haynes) tragedy wins out in the end. Incredibly subtle performances from the lead actors (one of whom was a non-professional) add to the crushing effects of ageism and racism that the lovers suffer at the hands of their family and friends.

Mother Kusters Goes to Heaven (1975) Fassbinder?s commentary on the home-grown terrorist groups that unsettled "business as usual" during the economic boom of Germany in the ?70s. Brigitte Mira (star of Ali: Fear Eats the Soul) returns as an ordinary working-class woman unintentionally swept up in the radical politics of the time.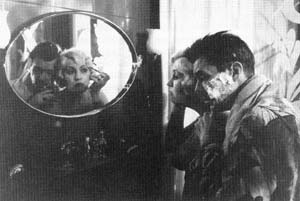 Despair: A Journey Into Light (1977) Based on a novel by Vladimir Nabokov as adapted by Tom Stoppard and starring British actor Dirk Bogarde as a Russian emigre (now petit bourgeoise owner of a chocolate factory) in pre-Nazi Germany, Despair documents one man?s spiraling descent into decadence and madness.
Germany in Autumn (1978) Together with the major German directors of the time (such as Volker Schlondorff and Alexander Kluge), Fassbinder contributes his take on the state of modern Germany in the late ?70s. A portrait of the artist on the verge of a nervous breakdown, Fassbinder?s episode is also notable for its candid interview with the filmmaker?s mother (who lived through the Third Reich) on the nature of democracy and social repression.

The Marriage of Maria Braun (1978) Perhaps Fassbinder?s most accessible film, The Marriage of Maria Braun asks the question, "What do we do for love?" Hanna Schygulla stars as a young woman who must struggle to survive in post-WWII Germany while her husband does time in jail. Fassbinder deftly documents the tragic results and inevitable emotional betrayals involved in Maria?s social transition from poverty to the comforts of a complacent middle-class lifestyle.
In a Year of Thirteen Moons (1978) Volker Spengler turns in a stellar performance as the emotionally confused Elvira (once Erwin) in this searing portrait of a life gone wrong. Like many of the films of Pedro Almodovar, this one has it all: transsexuals, prostitutes, gangsters, nuns. But (as is true for Almodovar?s work as well) In a Year of Thirteen Moons transcends the oddness of its characters to touch upon certain universal truths: the regret and despair brought about by hasty decisions, the failure of the conventional family, and the search for love in an unloving world. The eccentric soundtrack (including a musical number by the comedy team Lewis and Martin) underscores both the depth and banality of the plot and demonstrates Fassbinder?s skill at (literally) orchestrating emotion.

Berlin Alexanderplatz (1980) Fassbinder?s epic made-for-television version of Alfred Doblin?s novel explores the highs and lows of human nature in thirteen episodes (plus an epilogue). The novel?s hero, Franz Biberkopf, was the model for many of the protagonists in Fassbinder?s other films, and is one with whom Fassbinder personally identified.
A Man Like Eva (1988) Although directed by Radu Gabrea, we felt it imperative to include this film in our homage to Fassbinder. Half tribute to and half damnation of Fassbinder?s domineering personality, A Man Like Eva documents the almost pathological interdependence of the people who were drawn to the man, complete with psychosexual manipulations, sadomasochistic techniques of control and other grisly stuff. But, like all of Fassbinder?s films, in the end it?s about love. Eva Mattes turns in a tour-de-force performance as the cruel, pock-marked, bisexual director who demanded adoration and obedience from everyone around him, whatever the cost.
---