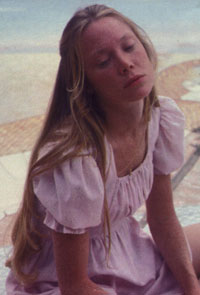 At last, Alphaville is truly pleased to announce the release of Robert Altman's 3 Women. The news of its release came a surprise to us since the film has never been available to the public on video, yet has always been a favorite amongst Altman fans. Why? Because 3 Women is possibly one of Altman's most enigmatic films of his 70's period.
The story behind the film goes that Altman had a dream at which he was making a movie that had both Shelly Duvall and Sissy Spacek as a couple of women that were switching personalities at one point (very similar in idea to Bergman's Persona). He claims that after he woke from the dream he was disappointed it was only that - a dream - and decided to record the memory for the story and get right away toward pitching the film to Twentieth Century.
The plot revolves around Pinky Rose (Spacek), who gets a job working at the Desert Springs Health Spa and Geriatric Center, in an anywhere desert town. Pinky, who is naïve and childish in quality, eagerly tries to befriend Millie (Duvall), a gal who apparently finds herself popular and is always trying to impress her coworkers with the latest trend in quick dinners or beauty tips. In reality Millie annoys her coworkers, who actually sneer and laugh at her under their breath. But Pinky finds Millie strangely interesting and tries to get her attention by clowning around while being trained in the daily work routines.
Eventually, Millie takes on Pinky as a friend by showing Pinky her favorite hangout, the Dodge City bar, a bizarre Western ghost town-themed villa complete with saloon and dirt bike track a la shooting range (audiences will just love the absolutely creepy laughing old man/lady/clock thingy which Spacek imitates in a key scene later in the film). Pinky also becomes Millie's roommate at the Purple Sage Motel, complete with swimming pool decorated with murals by the third woman of the title, the pregnant Willie (played by Janice Rule).
Willie's murals (which she meticulously paints at both the Purple Sage and Dodge City) seem to symbolize silent, macabre characters to the film. Willie never has much to say, she just seems focused on her painting. Throughout the pauses in the film Altman's camera silently glides over these stylized half-human, half-reptilian creatures. They appear to depict a warring clan of females fending off a lone male character. Accompanying these mural meditations is the eerie soundtrack (supplied by Gerald Busby) of low woodwind reeds with a sad, solo flute.
Altman's pace keeps you curious as to what these three women have in common, what will occur as a catalyst to bring them all together and what the outcome (if there is any) will be. The story develops and gives us clues (or possible meanings) about similarities between Millie and Pinky (an in-joke made by one of the characters is that both are from Texas, much the same as Duvall and Spacek themselves). However, as much as anyone tries to read into the film, the entire screenplay belongs to Altman's dream, as evidenced in one of most deliberate and visually haunting dream sequences since the films of Luis Bunuel.
This spotlight was written by Altman fan Chris Woodworth (who also happens to be one of the A-TEAM guys).
Call us at ALPHAVILLE VIDEO for more information about the street date of 3 Women, soon available on both VHS and DVD!
---