New on DVD: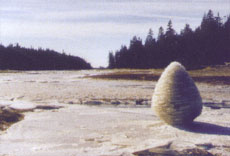 Rivers and Tides
The Andy Goldsworthy documentary is finally available for home viewing and it was well worth the wait as the DVD comes with seven bonus shorts on Goldsworthy's art works.
The Leopard
Luchino Viscontis classic gets the deluxe treatment from Criterion with this gorgeous three disc set. Includes the full length Italian version as well as the bastardized English language cut (which, to its credit, at least features the actual voice of star Burt Lancaster).
Battle of Algiers
Also from Criterion, this timely feature (from 1966) is from a beautiful new print and comes with two additional discs of documentaries and extras. See the film that our CIA is currently studying to aid them in their war on terror.
Decline of the American Empire and The Barbarian Invasions
Canadian Denys Arcands highly acclaimed comedy/drama "Decline of the American Empire" (1986) recently got a new lease on life since his sequel "The Barbarian Invasions" (2003), which follows the same principal characters seventeen years later, recently won the Academy Award for best foreign film.
Happiness of the Katukuris
Takeshi Miike continues to astound and confound with this family film which has been billed as a cross between "The Sound of Music" and "Dawn of the Dead." Fun and hugely enjoyable. We also carry his recent GOZU on video!
Strangers With Candy
We have all three seasons (thirty episodes in all) of the bizarre black comedy series that has deservedly earned its unique cult following. Join Amy Sedaris as a forty-six year old dropout and ex-drug addict prostitute as she decides to start her life over again as a High School freshman in this hilarious parody of after school specials.
Tanner 88 and Secret Honor
Once again Criterion outdoes itself by releasing these two obscure gems from maverick director Robert Altman. "Tanner 88" is a six hour miniseries written by Gary Trudeau and starring Michael Murphy as a liberal Senator running for president. "Secret Honor" is a masterful one man show about Nixon starring Philip Baker Hall as Tricky Dick. Both political satires, they are just as pertinent and hilarious today as they were in the 80s.
Prime Suspect 6
Helen Mirren returns as Detective Chief Inspector Jane Tennison. Need we say more?
The Adventures of Sherlock Holmes and The Return of Sherlock Holmes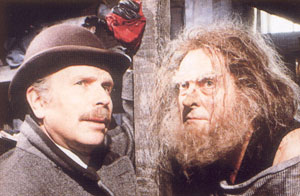 Two seasons of the award winning Granada television series starring Jeremy Brett, perfect as the brilliant and eccentric detective. The production design is immaculate and the adaptations of Sir Arthur Conan Doyles stories are great fun. Brett will forever remain the definitive portrayal of Holmes.
New rare and unusual on VHS:
He
A Time for Drunken Horses
Time of the Wolf (Haneke)
Ken Park (Larry Clark, Harmony Korine)
The Kingdom II (Lars von Trier)
Munchhausen (1943)
Tulse Luper Suitcases (Greenaway)
Battle Royale
Battle Royale II
Coming soon:
The Saddest Music in the World
Fanny and Alexander - five disc set
---