Spotlight for Spring 1999:
Films Commemorating the Jewish Experience
NEVER FORGET:
In honor of both the memory of the Holocaust and the founding of the state of Israel, ALPHAVILLE VIDEO presents our collection of films honoring the Jewish experience in all its complexity. Classic and contemporary films from Portugal, Italy, France, Germany, Poland, Russia, Israel, Canada, Australia, and the United States explore the enduring life, the rich traditions, and the ongoing history of this community.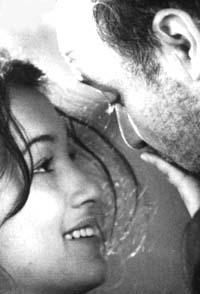 Documentaries on the Holocaust & Its Aftermath:
The Architecture of Doom
The Eye of Vichy
Facing Hate: Elie Weisel
Hotel Terminus: The Life & Times of Klaus Barbie
The Long Way Home
Night & Fog
Our Hitler: A Film from Germany
The Sorrow & the Pity
Triumph of the Will
The Wonderful, Horrible Life of Leni Riefenstal
Feature Films on the Holocaust & Its Aftermath:
Angry Harvest
Au Revoir les Enfants
Cabaret
The Damned
Entre Nous
Europa Europa
The Garden of the Finzi-Continis
Germany in Autumn
Ivan & Abraham
Judgement at Nuremberg
The Last Metro
Madame Rosa
Mr. Klein
The Nasty Girl
The Night of the Shooting Stars
The Night Porter
The Pawnbroker
Pressure Point
Seven Beauties
Ship of Fools
The Stranger
The Testament of Dr. Mabuse
The Tin Drum
Assimilation & Resistance:
The Apprenticeship of Duddy Kravitz
Barton Fink
Crossfire
Gentleman's Agreement
The Golem
Hester Street
The Jew
Next Year in Jerusalem
The Plot Against Harry
Shine
Sunday Bloody Sunday
The Tango Lesson
Taxi Blues
Ulysses
Zelig
Films from Israel:
Amazing Grace
Drifting
Late Summer Blues
Saint Clara
Wedding in Galilee
Music & Art:
Klezmer: Jumpin' Night in the Garden of Eden
Leopold Kozlowski: The Last Klezmer
Vivienne Hermann: Is There Poetry After Auschwitz?
Woody Allen: Wild Man Blues
Next spotlight: A look at Hong Kong Cinema.