Spotlight for Winter 2000:
Farewell to Britain's Best
As the 20th century draws to a close and a new one begins, we here at Alphaville think it only fitting to pay tribute to a few of the influential men in film who have died in the past year: director Stanley Kubrick and actors Oliver Reed and Dirk Bogarde.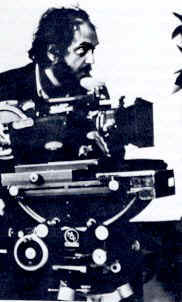 Kubrick, although born in America, where he began his career directing such hard-boiled film noir classics as Killer's Kiss (1955) and The Killing (1956), preferred to live in relative isolation in England. There he was able to view American culture from a distance, which perhaps contributed to his on-going ability to critique it so successfully in Lolita (1961), Dr. Strangelove (1963), 2001: A Space Odyssey (1968), and Full Metal Jacket (1987). Even Paths of Glory (1957), set in France during World War I, while peppered with the most American of American character actors (including Kirk Douglas) evades easy classification as anything other than a truly independent (read "auteur" vs. Hollywood-style) film.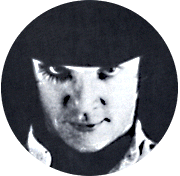 However, it was in Clockwork Orange (1971), based on the Anthony Burgess novel of the same name, that Kubrick's identification with Britain truly began. Starring Malcolm McDowell as a disaffected teenager gone violently wrong (echoing Britain's fear of the Teddy Boy menace of the early 60's), Clockwork Orange continues to be a model in youth culture for everything from futuristic cyber-slang to pre-pubescent Halloween costumes. With his posthumously-edited Eyes Wide Shut (1999), we say goodbye to this most mysterious (and British) of American directors.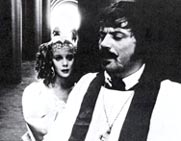 Oliver Reed was born to play Alex in Clockwork Orange; it's a pity he never did. The epitome of smoldering sexuality and violence, he made his debut in Hammer horror films, then went on to develop his indelible image of the Bad Boy of Britain in the cult classics Beat Girl (1959) and The Girl Getters (1966). With his piercing ice-blue eyes and massive chest, he made Ken Russell's Women in Love (1969) one of the most erotic films around (who could ever forget that nude wrestling scene with Alan Bates?). His success continued in other Russell films, including The Devils (1971) and the rock musical Tommy (1975). Even once his youth had faded, his virile intensity stole the show in a comic cameo as the god Vulcan in Terry Gilliam's The Adventures of Baron Munchausen (1989). He died in Malta at the age of 61, appropriately after an afternoon of drinking and arm-wrestling with sailors from the Royal Navy.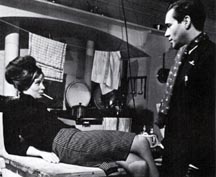 Dirk Bogarde's image of refined elegance is a world away from the rough vulnerability of Reed, yet Bogarde was able, as was Reed, of evoking a certain mysterious menace, most notably in his roles as The Servant (1963) and The Night Porter (1973). Both films present a man who appears to be one thing on the surface, yet harbors unspeakable secrets in his soul. His character in The Damned (1969) similarly reflects this sense of a complex and fractured identity, capable of anything, that is at once frightening and reassuring. Bogarde was above all a master of ambiguity, a characteristic that no doubt added to the credibility of his portrayal of a man accused of the (then) "crime" of homosexuality in Victim (1961). In the pop-art farce Modesty Blaise (1966), he plays this ambiguity to the hilt, as the evil secret agent with the platinum-blonde bouffant. In Death in Venice (1971), he faces his own mortality and longing for beauty as the composer Gustav Aschenbach, possessed by the impossibility of possessing a young man he meets while on vacation. And certainly it must have been Bogarde's ability to shift from quiet self-effacement to upper-class posturing in Providence (1980) that made it possible for him to play two radically different characters, the withdrawn son of a famous writer and the overbearing figment of his father's novelistic imagination.
As a star of international stature, Bogarde worked with Italian directors Luchino Visconti and Liliana Cavani, as well as with Alain Resnais and Bertrand Tavernier. And after a bout with cancer, he took up writing to develop and express his creativity. In his last film, Daddy Nostalgia (1990), he starred opposite Jane Birkin, another Brit who, like Bogarde, has continued to enjoy cross-continental fame (she married the French pop singer Serge Gainsbourg and has starred in a number of French films, most notably those of Agnes Varda and Jacques Rivette). We will miss him as we will all of "Britain's Best."
Next spotlight: Silent Giants